Self Contained Breathing Apparatus (SCBA)
---
A
self contained breathing apparatus
, or
SCBA
, sometimes referred to as a
compressed air breathing apparatus
(CABA),
air pack
, or simply
breathing apparatus
(BA), is a device worn by rescue workers,firefighters, and others to provide breathable air in an
IDLH
(immediate danger to life and health) atmosphere. When not used underwater, they are sometimes called
industrial breathing sets
.
The term "self-contained" means that the breathing set is not dependent on a remote supply (e.g., through a long hose). If designed for use under water, it is called SCUBA (self-contained underwater breathing apparatus).
An SCBA typically has three main components: a high-pressure tank (e.g., 2,216 to 4,500 psi (15,280 to 31,000kPa)), a pressure regulator, and an inhalation connection (mouthpiece, mouth mask or face mask), connected together and mounted to a carrying frame.
MSA G1 SCBA
---
The all new MSA G1 SCBA has received U.S. Government approval from the National Institute for Occupational Safety and Health (NIOSH) and certification from the Safety Equipment Institute (SEI) as compliant to the 2013 Edition of the National Fire Protection Association's (NFPA) 1981 and 1982 performance standards for SCBA!!
G1 Facepiece is lightweight and compact: No electronics needed
Control module provides both color LCD and analog displays
Improved visibility through buddy lights and reflective material
Heads up display (HUD) shows remaining cylinder pressure in 4 increments via colored LEDs
Electronic communications are integrated into every unit
MSA G1 SCBA ergonomics
Central power system for all electronics
Available in easily-upgradeable threaded or quick-connect cylinder attachment
The MSA G1 SCBA Remote-Mounted Quick-Fill System is the only front-mounted NIOSH approved and NFPA compliant system for recharging cylinders!  This unique system rapidly recharges cylinders without the need to doff the SCBA, even in Immediately Dangerous to Life or Health (IDLH) environments.
MSA G1 SCBA Integrated TIC
---
The MSA G1 SCBA with Integrated Thermal Imaging Camera provides EVERY firefighter the ability to see in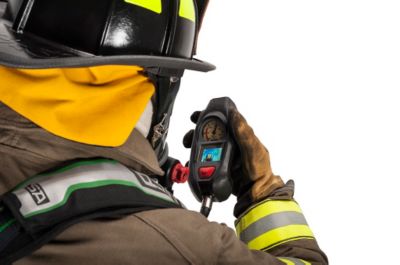 dark and smoke filled environments, aiding in the speed and effectiveness of your operation from the initial 360, to working the fire, overhaul and rescue. This sight is provided through a Thermal
Imaging Camera that is integrated into the G1 SCBA Control Module, eliminating the need to carry an addition piece of bulky equipment and the concern of an additional snag hazard.
MSA FireHawk® M7XT
---
Through NFPA, firefighters strive to improve the durability and performance of their SCBA and PASS devices. It's no different with the new 2013 edition of NFPA 1981 and 1982 NFPA standards for self-contained breathing apparatus and personal alert safety systems (PASS). These revisions call for a minimum low pressure alarm set point of 33% cylinder operating pressure remaining, improved facepiece lens radiant heat performance, 500° F heat and flame exposure, and standardized PASS device alarm sound patterns.
In addition, NFPA has raised the bar on voice communication capability, now requiring measurable, minimum Sound Transmission Index (STI) scores for both mechanical and electronic communications.
MSA's new FireHawk M7XT Air Mask represents a true technological achievement in critical firefighter protection.
As firefighters determined the safety requirements required to meet NFPA 1981 and 1982 2013-edition standards, MSA engineering teams began to design solutions. The new FireHawk M7XT Air Mask, with its life-safety design components built upon a modular air mask platform, exceeds NFPA 2013 requirements and provides firefighters with the highest quality SCBA available.
Warranty Repair and Service Center
Susquehanna Fire Equipment is a warranty repair and service center for SCBA's.
For more information please call (800) 822-2105.
SFEC participates in CoStars through the Emergency Responder Loose Supplies category under contract 012-85